Bombly - Keep Talking and Nobody Explodes Robot
Product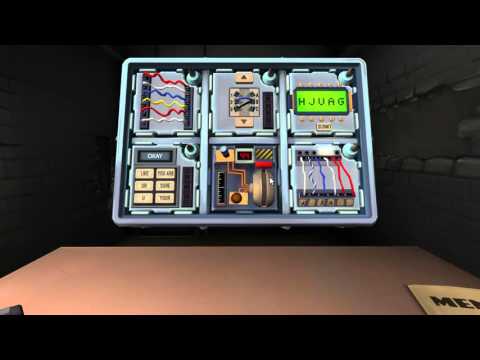 THIS IS BETA.. USE AT YOUR OWN RISK
This is a "expert" robot written in Python to assist in playing Keep Talking and Nobody Explodes.
In its traditional form, the bomb defuse talks with an expert who holds the Bomb Manual. Based on the information given by the defuser, the expert scrambles through the manual give information back to the defuser to correctly secure the bomb.
This is just a problem waiting to be solved with Python. Below is my attempt to solve this problem.
WARNING: This does ruin the fun of the game. You have been warned!
Installation
Windows only
Install dragonfly
git clone https://github.com/t4ngo/dragonfly
cd dragonfly
python setup.py install
Start the bot
python dfly-loader-wsr.py
I believe dragonfly should work with Dragon NaturallySpeaking, however, I did not use it.
Commands available
The general idea is to speak a command then a series of words about that command.
Bomb variables
batteries <#>         - Number of batteries on bomb
serial <#>            - Last digit of serial
vowel <true/false>    - Vowel in serial number
car <true/false>      - CAR indicator on bomb
freak <true/false>    - FRK indicator on bomb
parallel <true/false> - Parallel port on bomb
Metabomb
bomb reset  - Reset global bomb variables
bomb status - Print current values of global attributes
Simple Wires
simple wires <wires> - Where wires is in (red, blue, yellow, black, white)
Example:
simple wires red red blue blue yellow black
Complex Wires
complex wires <wires> - Where wires is in (light, red, blue, star, blank, next)
Seperate each wire from left to right with next. blank is the reserved word for no attributes
Example:
4 Wires:
Red
Blue with Star
Red/Blue with Light/Star
No attributes
complex wires red next blue star next light red blue star next blank
Maze
maze <coords> - Where coords are 3 pairs of numbers for indicator, start, stop
Note: Coords start at upper left (1, 1) and go horizontally then vertically.
Example maze and command:
X O X X
X X X X
S X X X
X X X F

Indicator - (2, 1)
Start     - (1, 3)
Finish    - (4, 4)
maze 2 1 1 3 4 4
Simon
simon <colors> - Where colors are in (red, blue, yellow, green)
Example:
simon red blue blue red
Wire sequence
Say each wire in increasing order.
wire sequence <color destination> - where color in (red, blue, black) and destination in (apple, bravo, charlie)
Example:
1 -blue-- A

2 -red--- B

3 -black- C
wire sequence blue apple red bravo black charlie
If two wire sequences in the same bomb, be sure to reset the wire sequence state between sequences.
wire sequence reset
Button
Step 1:
button <color of button> <word>
If press and hold:
button color <color of strip>
Memory
memory <display> <numbers from left to right>
Example:
    4
 2 3 4 1
memory 4 2 3 4 1
If two memory modules in the same bomb, be sure to reset the memory state:
memory reset
Morse
morse <0/1 for one letter> - Where 0 is short and 1 is long
Rules for morse:
Give the morse module one morse letter at a time.
Be sure the letters are in succession of each other.
Only three letters are necessary.
Example:
-... ... -.-.
morse 1 0 0 0 
morse 0 0 0 
morse 1 0 1 0
If two morse modules in the same bomb, be sure to reset the morse state:
morse reset
Symbols
symbols <symbols>
tennis, a, l, lightning, kitty, h, c
e, tennis, c, o, star, h, question
copyright, butt, o, k, r, l, star
six, paragraph, b, kitty, k, question, smile
goblet, smile, b, c, paragraph, three, star
six, e, equals, smash, goblet, n, omega
Who's on First
Now for the fun module. This is still a work in progress (check out the code for all of the cases)
words one <words> - Step 1 of Who's on First, lookup position
words two <words> - Step 2 of Who's on First, start giving words from lookup table
Below is the table of what spoken words coorelate to the words necessary to complete the challenge.
' ' - literally blank
blank - blank
c - c letter
c - see letter
cee - c c 
display - display
done - don
done - done
done - done
first - first
hold - hold
hold - hold
hold on - hold on two
lead - lead
lead - mead
led - L. E. D.
left - left
like - like
middle - middle
next - next
no - no
nothing - nothing
okay - OK
okay - okay
press - press
read - read
ready - ready
red - red short
reed - read too
right - right
right - write
says - says
see - c s 
sure - sure
their - e i r
there - e r e
they are - they are words
they're - they are marked
they're - they mark
u - you letter
uh huh - five letters
uh uh - four letters
uhhh - three h
ur - you are letters
wait - wait
what - what no mark
what? - what mark
yes - yes
yes - yes
you - you word
you are - you are words
you are - your words
you're - you are mark
you're - your mark
your - you're word
your - your word
Needy knobs
knobs <0/1 of LEDs> - LEDs of bottom left 3 then upper right 3
Example:
    Up

<   .   >

    v

0 1 0 1 0 1
1 1 1 0 0 1
knobs 1 1 1 1 0 1
Password
Not implemented...yet.